Sydney as its best during Christmas
The best thing that attracts a lot of tourists to
Australia is that Christmas
is a
summer time
event unlike the rest of the world.
Christmas in Sydney
is the very best and the most spectacular in Australia.
Christmas program
in Sydney includes a host of things but one that tops the list is the amazing display of the lights through out the city.
My Facts About Australia: Christmas on Sydney Beach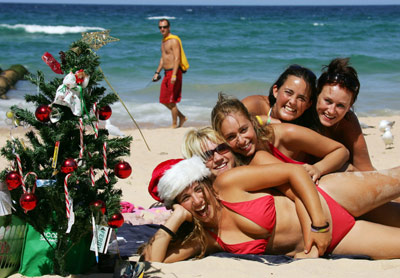 Every nook and corner of the city is illuminated. Special engineers are invited to
Sydney
to make this marvelous display of lights possible. They work day in and day out to make it happens flawlessly. The Sydney town hall is the center of attraction in this amazing exhibit of lights.
My Facts About Australia: Christmas in Park
The second on the list are the various community concerts which are being organized all through out Sydney. These are usually set up in the vast fields and stadiums. Famous live bands, singers and dancers adorn the stage. These concerts provides for free entry. These parks are opened for picnics during
Christmas in Sydney
.
My Facts About Australia: Sydney Christmas

Third on the list is the Sydney
Christmas food
. They just don't have turkeys, cakes, pastries and wine. The Australia
Christmas menu
is quite extensive it has a wide variety of sea food which is usually in plenty at this time of the year.
My Facts about Australia: Christmas
Fourth on the list is the Sydney harbor it is a great place to be in the day as well as in the evening. You can relax by having the best of
food and drink
. Move around or chat with your friends you are bound to enjoy. Then during the nights you can witness superb and splendid display of fireworks.